Saturn Ortho Equipments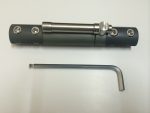 Orthopaedic Insturments and External Fixator
Saturn Ortho is the organisation headed by the research oriented Engineer who has expertise in Manufacturing Orthopedic Equipment due to his dedicated work and long association of 20years with Orthopedic industry. The growth achieved by Saturn Ortho is in last five years is one of its kind in Indian Orthopedic industry, therefore we take a pride in stating that Saturn Ortho is a fast rising star in the Orthopedic Industry.
Saturn Ortho was started as single Product Company by launching Electric Heavy Duty Bone Cutting System and has more than 1000 satisfied Orthopedic Surgeons using this system for past 15 Years. Currently Saturn Ortho has wide range products to offer to the Orthopedic Fraternity.
However currently Saturn is concentrating on External Fixators and have wide range of External Fixators eg. LRS system, Hoffman first Genaration, Second Generation, Monotube Triax fixation system etc.