BOE MEDICAL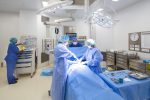 Address:
7, Rue du Parc de Clagny – 78000 Versailles – FRANCE.
78000
Business Description:
BOE MEDICAL, we are a French turnkey engineering company, specialized in Surgical Operating rooms, Modular Operating rooms ,medical equipment. We offer one unique interlocutor, and the know-how of efficient partners, to realize all your turnkey Operating room project. We design Operating rooms, supply all the equipment including the Modular walls, doors, fixed equipment including installation and service after sales. We have references in Africa and in the Middle East. Project can be new or to be renovated.