Jiangsu Ostup Medical Products Co., Ltd. (Ostupmed)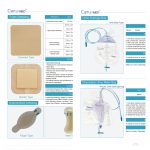 Manufacturers and traders of stoma, wound and incontinence care products. Products include colosotomy bags, urostomy bags, ileostomy bags, foam and hydrocolloid wound dressings, urine meter and urine bags.
Ostupmed is a well known manufacturer of ostomy bags, wound care dressings and urine bags. All our products fall under medical disposables and boast high quality and cheap pricing. All our products possess FDA, CE and ISO certification. We have years of experience in manufacturing these products and are looking for distributors and suppliers all over Africa. We also supply directly to hospitals and other institutions.