S D FINE CHEM LIMITED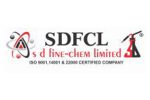 Business Name:
S D FINE CHEM LIMITED
Business Description:
Since 1979, S D FINE CHEM has been one of the leading lab chemicals manufacturers in Asia. Our vast portfolio of Laboratory essentials includes more than 400 chemicals and more than 8,000 SKU's for a wide range of different applications – with consistency, purity and accuracy assured, quality & satisfaction, lot after lot. SDFCL offers complete solution for varied applications in the scientific industry, right from custom synthesis / contract manufacturing of speciality / fine chemicals from gram to tons. With the addition of our FDS / GMP manufacturing facility, we now offer pharmacopoeial / food grade chemicals; making us the only company in India to do so.