LOKMANYA HOSPITAL PVT LTD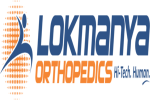 Business Name:
LOKMANYA HOSPITAL PVT LTD
Business Description:
Led by Dr.Narendra Vaidya, Lokmanya Hospital is the first hospital in Asia to have introduced Robotic Assisted Joint Replacement Surgery.Present in Pune, Kolhapur, and Mumbai, Lokmanya Hospitals not only offers orthopedic treatments but also advanced multi-specialty treatments.
Experienced doctors and World-class latest technology have helped us become a leading healthcare name.
With over 1, 00,000 happy patients, we are proud to offer the finest treatments to patients from around the world. Lokmanya Orthopedics, with more than 40 years of prolific experience in Super Specialty Orthopedic Care, is a well-known worldwide destination for International standard healthcare facilities.