DHWANI AURICA PVT LTD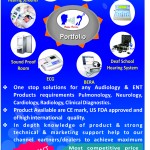 Business Name:
DHWANI AURICA PVT LTD
Business Description:
Dear Sir ,
Greetings ! Dhwani Aurica are certified merchant exporter with team of professionals dedicated in the field of Audiology and Hearing Health care offering world class products and services at very competitive price. We make a bridge between end user and professionals to render key sales and service supports of Hearing instruments and Audiology. We here are pleased to submit our best offer :
product includes are :
1. Affordable Hearing aids
2. Portable audiometers
3. Portable audiometer testing booth
4. Otoaccoustic emissions –OAE
5. BERA
6. Deaf school instruments
7. Loop induction systems
8. Speech trainers
9. Delay auditory systems
10. FM systems
11. Ear mould lab & customisation
12. Hearing aid repairs
13. Speech therapy
14. Cochlear implant program
15. VNG.
16. USB HIPRO
15. Portable Spirometer
16.ECG
17. Bio Chemistry Analyser (BCA)
We will be happy to associate with your esteem organization and partners with as preferred supplier in your.We have wide range in colours for hearing aids and, our products Audiometers are exported to more than 30 countries worldwide. Products offered are widely accepted among patients, professionals and institutional due to its durability ,quality and fair cost over and products are with international certification CE mark ,US FDA & ISO 13485. All our products comes with one year warranty.
We will be pleased to submit our best quotation for Portable & Diagnostic Audiometer,portable spirometer, portable acoustic booth ,once you select the model and specify your order quantity ,our accounts & dispatch team will contact you for payments and shipment of your goods, and if you have any query please call or email, we will be reply back to you .
Thanking you,
For DHWANI AURICA PVT LTD
(Inderjit singh)
Director
Corporate off:
Dhwani Aurica Pvt Ltd
402,shri tower,
Link road,Borivali-west,
Mumbai-400092.India
Customer support:+91-22-65144408
Whatsup / direct call:+919833577037
Skype: dhwaniaurica
Email: info@dhwaniaurica.com
dhwaniaurica@gmail.com
www.dhwaniaurica.com