Tasakhtaa Global hospitals Ltd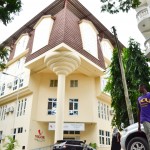 Business Name:
Tasakhtaa Global hospitals Ltd
Business Description:
Established in March 2015, TASAKHTAA GLOBAL HOSPITAL is a modern multi facility hospital situated in the old tourists' magnet Stone Town of Zanzibar at Vuga.
Boasting of modern medical facilities and machines for diagnostics and treatment which includes CT Scan, C-ARM facility, Ultra Sound, Dialysis Unit, ECG, Laparoscopy , the hospital also has one of the most competent Orthopaedician capable of performing high ended surgeries such as knee cap and joint replacements, the hospital also boasts of competent Cuban trained doctors in areas of Gynecology and cardiac surgeries, our Gynecologist is capable of attending general gynecological cases as well as performing complicated Gynecological surgeries.
We also boast a number of resident General Practitioners capable of attending to common diseases cases in 24 hours 7 days rotation.
The hospital is capable of bedding 130 patients in different classes of service from VIPs single rooms to general shared ward rooms not exceeding four patients per room.
We have the best facilitated ICUs to care for all intensive medical situated patients in General medicine, Surgical, Cardiac and Neonatal.
Our services are well supported with acceptance of both local and international medical health insurance providers' cards.
With this introduction, we present to you the services that cover mainly the following areas;
• Facilitative& administrative capacity of the hospital.
• Our personnel stock
• Emergency care facilitation
• Intensive Care facilitation
• Insurance facilitated medication
• Special Corporate Package.
• Specialist Consultation and Nursing.
• Health checkup for staff.
• FIRST AID staff training.
Emergencies.
TASAKHTAA GLOBAL HOSPITAL is the only hospital in Zanzibar with a modern state of the art, patient "stabilizing" ambulance.
Stabilizing means that our ambulance is well equipped, with the following facilities;
 Full Air Conditioned.
 The Trauma trolley
 Spine board/Scoop stretcher
 Electronic Syringe Pump.
 Ventilator
 The resuscitation machine
 The oxygen machine/Oxygen Control Panel.
 Cardiac Monitor
 Lypho Suction Unit
 Hand Suction Units
 B.P Measuring Unit.
That means our ambulance is not just for ferrying the patient from the point of rescue to hospital rather the whole medical care can proceed within it at the scene.
Depending on the condition of the patient, our ambulance has got all necessary facilities to stabilize the patient right at the point of rescue only to transfer him to the hospital for further treatment.
On a rescue mission our ambulance comes along with a doctor and a specially emergency care trained nurse.