Manufacturer And Exporter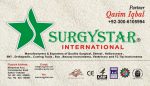 Address:
MOHAMMAD PURA,COMMISSIONER ROAD,SIALKOT-51310,PAKISTAN.
51310
Business Description:
Surgystar International Company manufactures standard and customized surgical grade MEDICAL DEVICE INSTRUMENTS. We follow US Food and Drug Administration Current Good Manufacturing Practices (CGMP) and are an FDA-approved facility. We are ISO 13485 and ISO 9001 certified.
Highest Quality Materials. We manufacture our instruments with imported stainless steel from U.S.A., Germany, France and Japan.We can also work with your raw material supplier of choice, if that is preferred. All our products include the raw material certification with each shipment.
Customer Service. We provide U.S. Sales and Customer Service support, so you are working through our representatives located in the U.S.
Pricing. Go ahead and compare. You will find that our pricing leads the industry. In a cost-conscious industry, we help provide our customers with competitive pricing that will help reduce your overall costs, without sacrificing quality.
Quality, Guaranteed. We utilize the most technology-advanced equipment to manufacture our products, and utilize state-of-the-art inspection equipment. Certificates of Compliance to customer specifications is what we take great pride in, and recognize the importance of such CofC's.
We provide a wide variety of industry standard instruments in the following areas, but also work with customers to manufacture their own custom-designed instruments:
SURGICAL – DENTAL – VETERINARY- SPINE & ORTHOPEDIC INSTRUMENTS-
DENTAL IMPLANTS,DRILL STOPS,ORTHODONTIC & ENDODONTIC INSTRUMENTS.