weidir impex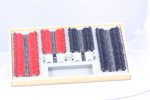 Address:
17/F., Building A, Longhe Mansion, No. 6, Cangwu Road, Lianyungang, Jiangsu 222006 China
222006
Business Description:
We are a leading company , with more than 30 years, distributing all Chinese optical and ophthalmic instruments in the world, all our products with CE and FDA approved are of high quality and reasonable prices. We have also our own factory to produce best quality trial lens set, lensmeter and slit lamp. We are lens supplier of MSD, Italy and sell our trial lens set to Topcon, Japan and other famous companies in the world.