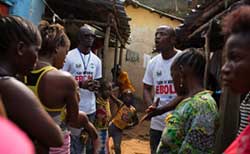 New York, United States — The Islamic Development Bank (IDB) has pledged to provide financing worth $360 million in support of a sustainable Post Ebola recovery effort for Guinea and Sierra Leone.
The announcement was made by Mr Sayed Aqa, IDB's Vice President for Cooperation and Capacity Development on the occasion of the International Ebola Recovery Conference held in New York, United States on 10 July 2015.

The Conference was organized by the UN in which the Presidents of the three affected countries, Guinea, Liberia and Sierra Leone participated, along with large number of representatives of the international community.
Mr Aqa, representing the IDB President, Dr Ahmad Mohamed Ali, stated that out of the $360 million, Guinea would receive US$220 million, while Sierra Leone would benefit from US$140 million. As for Liberia which is not a member country, IDB will strengthen its efforts through partnership with other development agencies such as the Arab Coordination Group to support the Post-Ebola recovery effort in that country.
"IDB values partnership with a view to enhancing its operations in all spheres of socio economic development. In this context, IDB has fostered cooperation with all UN and international agencies, multilateral development agencies, public and private institutions, Non-Governmental and Civil Society Organizations, Foundations and Philanthropists," added Mr Aqa.
Commending the efforts of the UN in convening the conference, he recalled that the Organisation of Islamic Cooperation (OIC) and the IDB held a similar international conference in Jeddah during November 2014 to mobilize resources for the Ebola affected countries. In addition, US$35 million was donated through the IDB, by the late King Abdullah of Saudi Arabia to support the Ebola affected countries.