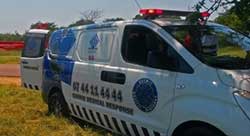 JOHANNESBURG, Aug. 6, 2015 /PRNewswire/ — NEAH GES ("GES") a Dubai based holding company focused on risk-mitigation and logistics support, which provides site security and protection, air/ground/marine transportation and evacuation, power generation O&M, and emergency medicine services to energy, mining and heavy industries across the African continent today announced that it is expanding its Emergency Medical Response Service (EMS) platform in South Africa.
GES operates EMS services in South Africa via its wholly owned affiliate, Quemic Medical Response (QMR). QMR is fully accredited with the Board of Healthcare Funders and SAPAESA and is uniquely positioned as the only medical aid accredited service provider in remote locations across South Africa.

The accreditation permits QMR to claim for ambulance transport directly against medical insurance, the Road Accident Fund, the Workman's Compensation Commissioner and other funders. Patients who are not members of a medical scheme or who will not be covered by one or more of the funders listed above will receive a private account for the Services rendered.
QMR provides a range of integrated solutions and experienced crisis management professionals. QMR front line emergency response teams provide resilience to local medical support services. QMR has an airtight operating model with properly trained staff that possesses medical and country navigation knowledge combined with medically and technologically advanced medical equipment.
QMR, combined with the strategic and tactical resources it possesses, provides superior delivery of medical care in South Africa including:
Emergency Medical Response and Stabilization
Ambulance Transport – Standard Ambulance and 4 X 4 Ambulance
Aviation Transportation-Fixed Wing and Rotary Wing
First Aid Training Levels 1, 2 and 3, Wilderness First Aid and Selected Safety Courses.
24/7 Doctor Services – telephonic or house calls – additional fees apply.
IOD Management
Event Medical Services.
About NEAH GES
NEAH Global Energy Solutions (GES) provides comprehensive logistics, power generation and security management for global energy and critical infrastructure assets. GES Africa business divisions currently include Power Generation and Infrastructure, Maritime, Aviation, Ground Logistics, and Emergency Medical Services. GES utilizes extensive experience within the African and Middle Eastern regions to effectively wrap energy and infrastructure assets with sophisticated physical and financial risk mitigation protocols ("GES WRAP"). GES is an authorized vendor for the U.S. Department of State, United Nations, USAID, and other global governmental agencies. GES expertise provides commercial and governmental organizations comprehensive risk mitigation solutions unparalleled in the global marketplace.