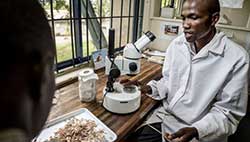 [KAMPALA] A medical informatics centre has been commissioned in Uganda to enable the country's scientists share big data with the rest of the world.
The state-of-the-art Ugandan Medical Informatics Centre (UMIC) will collect, store and analyse data to advance genomic research.

The five-year project was officially launched during the 2015 Science Symposium Programme at the Uganda Virus Research Institute (UVRI) this month (13 August).
"The data will be owned by the countries, scientists or institutions that send them to us, but we shall have partnerships."
The centre, which is a partnership between the Makerere University in Uganda and the UVRI, is funded by the UK Medical Research Council and the Wellcome Trust. The UMIC is located at the UVRI campus in Entebbe. "We produce a lot of data but we cannot handle them. The centre will be able to share sequenced data with similar ones around the world,"said PontianoKaleebu, director of the MRC/UVRI Uganda Research Unit on AIDS. The integrated data centre cost £3 million (about US$4.7 million), according to Kaleebu. Genetic and genomic data haveimplications for individuals, families and society. They can be used to identify how families and communities are susceptible or resistant to diseases. Jenny Thornton, the programme manager of the African Partnership for Chronic Disease Research (APCDR) at the UK-based University of Cambridge, said the centre will analyse and standardise medical data for use worldwide. APCDR provides opportunities to assess the burden of non-communicable diseases and their risk factors by developing strategies for data harmonisation, shared resources, and by bringing together epidemiological studies, research expertise and infrastructure across Sub-Saharan Africa. The UMIC will help develop preventive and control strategies for non-communicable diseases, said Thornton. But the data must be turned into practical use, she cautioned. Kaleebu said the UMIC will also be used to build capacity in bioinformatics in Africa. Bioinformatics can be used in hospitals to find disease trends among specific agegroups, and to aid policymaking. The centre has been established at a time when there is increasing genomicresearch in Africa, but genomic data are sent abroad because analysing them is limited, according to Kaleebu. "Our African colleagues are interested in using these data," said Kaleebu. "The data will be owned by the countries, scientists or institutions that send them to us, but we shall have partnerships." He said a fee for the services offered would be worked out to help sustain the centre.