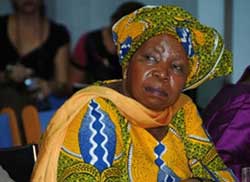 Havana, Oct 2 (Prensa Latina) Nkosazana Dlamini-Zuma, Chairwoman of the African Union Commission (AU), continues today her agenda of activities in the context of her official visit here, which includes meetings with officials from the island.
Dlamini-Zuma will hold official talks today with Cuban Acting Foreign Minister, Marcelino Medina, and then proceed to the signing of a memorandum of understanding between the Republic of Cuba and the AU Commission.

As part of her stay in the island, the leader met with Cuban Parliament President, Esteban Lazo, and also expects to visit on Saturday, Oct. 3, the Latin American School of Medicine, where she will meet with young Africans studying in the Caribbean nation.
Yesterday, during her tour of the "Pedro Kouri" Tropical Medicine Institute, Dlamini-Zuma thanked Cuba's historical solidarity with the African continent, especially the medical personnel support to combat the epidemic of Ebola virus, which strongly hit nations as Liberia, Guinea, and Sierra Leone.
In that sense, the AU senior official met with physicians from that center, as well as with members of the Henry Reeve medical contingent that fought the Ebola epidemic outbreak in West Africa.
Subsequently, Dlamini-Zuma gave a lecture at the headquarters of the "Raul Roa" Higher Institute of International Relations on the Agenda 2063, which sets the agenda of the African continent to achieve a sustainable, balanced development, and the elimination of poverty, taking this year as a goal.