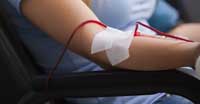 In marking Mandela Day, RSG and the South African National Blood Service (SANBS) have joined forces this July. Not only will RSG's announcers and SABC employees be invited to donate blood, but listeners will be encouraged to donate a total of 6,700 units of blood.

Although Nelson Mandela Day is celebrated on 18 July, RSG and SANBS are inviting South Africans to choose blood donation as their continued act of generosity, and to make every day a Mandela Day.
Saving lives
"There is no better way to honour the life and spirit of a man who epitomised the precious value of life, but to donate blood," said Vanessa Raju, national communications manager of the blood service. "In this way the lives of victims of accidents, mothers in childbirth, cancer patients and thousands of others can be saved."
RSG and SANBS last year presented a similar project, and received more than 3,000 units of blood. This year's campaign aims to double that. And on top of that, RSG listeners can win hampers in a weekly lucky draw on-air.
Programs like Praat Saam (with Lynette Francis) and Tjailatyd (with Amoré Bekker) will keep listeners informed. Interviews with people whose lives have been saved due to blood donation, will also be broadcast throughout July.