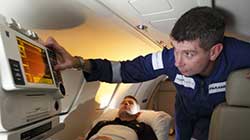 Canberra-based company Aspen Medical will launch a commercial flying doctor service in West Africa next month as it plans for a future beyond Ebola treatment.
The company, which was the only organisation to be contracted by three separate governments to treat the epidemic, is hopeful it will support rebuilding communities.
Its plane is expected to arrive in Sierra Leone's capital Monrovia in coming weeks and the evacuation service will be available to calls from Liberia, Guinea, Cote d'Ivoire and Ghana.

"You can imagine how important a medical evacuation service would be in north-west Africa and at the moment there is a need for a commercial service that doesn't yet exist," Aspen medical co-founder Glenn Keys said.
"We expect there to be an enormous demand as organisations start to come back to Africa after the Ebola outbreak, particularly the oil and gas and banking companies."
The plane is capable of carrying 19 passengers, four patients on stretchers or 2880 kilograms of cargo.
Mr Keys said many Canberrans continued to travel to the region and replace staff, including Dr Bernie Towler who treated Ebola patients at the company's treatment clinic in Freetown.
"We have got three Canberrans working for us in Sierra Leone at the moment. One is a doctor, one is a project manager and the other is a key human resources staffer," he said.
The air service is seen as a natural extension of the company's work in west Africa and will continue for the foreseeable future.
"We were working in Ebola treatment centres for the Australian and US governments and since then we have picked up the UK treatment facility too," he said.
Mr Keys said the Australian Ebola treatment centre closed in May while the US facility closed late last month.
"We shouldn't be there any longer than the end of this year but with any of these things that depends on how Ebola is kept under control," he said.
More than 11,000 people died as a result of the Ebola outbreak that began in Guinea in December 2013 and spread to neighbouring countries.
Liberia has recorded the highest death toll of 4808 fatalities although the country was declared free of Ebola in May after 42 days with no new infections.