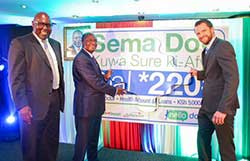 More and more, the public sector, while seeking to optimize access and quality, is looking towards the private sector for innovation and efficiency this has therefore seen the Government through the Ministry of Health partner with key players in the private sector to adopt innovations surrounding, e-health.

This has therefore seen Kenya Ministry of Health partner with Safaricom, CBA and an international m-Health service provider, Hello Doctor to launch Sema Doc, an affordable health care solution, available entirely from mobile phone. Sema Doc targets to reach more than 11 million mobile subscribers in the Country.
The event was officiated by Kenya's First Lady, Margaret Kenyatta who commended the partnership and the innovative product saying that it is a transformative telemedicine healthcare solution that will enable patients interact directly with doctors, get diagnosed quickly as well as receive treatment from communities, villages and towns across Kenya.
"This new product will help improve primary healthcare across Kenya, especially in areas where the health centres are under resourced. The most encouraging news about this new healthcare system anchored highly and dependant on mobile telephone accessibility and network an area where Kenya is well defined," she said.
She also added that this was a clear testimony of an excellent product developed when an innovative private sector inspires and forms a creative public sector. "The new technology will also be applicable to maternal health and child curve in support of the Beyond Zero Campaign therefore lead to improved health for mothers and reduce levels of poverty," she said.
For just KSh. 300 per month, Sema Doc will give its subscribers a 24/7 mobile access to medical doctors, a Health Account dedicated to help them save for medical expenses, access to instant health loans and a Kshs. 5000 hospital cash benefit. To subscribe one will be required to dial *220# and follow a few steps.
Speaking during the same event, the Cabinet Secretary of Kenya Ministry of Health commended Hello Doctor saying, "Mobile health solution will go a long way in improving health care in the country. Through solutions like Sema Doc the health sector will scale up access to person centred healthcare. This therefore marks a major milestone in Kenya's healthcare sector as this transformative mobile technology innovation will address barriers in health services. E-health is being applied to deliver specialised health services by Moi Teaching and Referral Hospital and Kenyatta National Hospital on low scale. The Ministry is also keen to see all public health facilities perform on a digital platform, we therefore fully support such initiatives as Sema Doc both in public and private sector."
By subscribing for the Sema Doc product you will be entering into three separate, yet interlinked, legally binding agreements, each with their own terms and conditions, with three different service providers, namely: Hello Doctor for Doctor Access, CBA for Health Accounts and Health Loans and Cannon Assurance for the Hospital Cash Benefit.
Sema Doc will be available from Hello Doctor to Safaricom clients with M-PESA accounts only. Access to any of the Sema Doc services will be dependent upon payment of the monthly Sema Doc subscription fee. In the event the subscription fee is not paid, defined parts of the services will be suspended and not be capable of being used until reactivated and paid for.
Safaricom has been involved in m-health for a while now, with the first attempt being Daktari 1525 which didn't pick up well, but according to Safaricom CEO, Bob Collymore, they learnt from the fail and will focus more on making Sema Doc work. Safaricom is also currently working with communities in Samburu through Jamii Smart platform which is a national health information platform that was conceived in 2009 by World Vision and Safaricom.
Jamii Smart design and implementation started in 2012. Jamii Smart's long-term goal is to enable mHealth initiatives for maternal, new-born, and child health to achieve national scale in Kenya.
The event was also attended by Director and Co-founder for Hello Doctor, Dr. Michael Mol, Safaricom CEO, Bob Collymore, CBA Group Managing Director, Isaac Awuonda and Regional Director East Africa for Hello Doctor Mr. Kelvin Massingham and other major key players from the health sector.
Source: http://africahealthitnews.com/