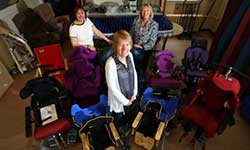 Surplus medical equipment will move from Arbroath to Africa to help orphans in Malawi thanks to a council donation.
A consignment of specialist health gear and seating is bound for three centres in the African country to help in the treatment and support of disabled orphans.

The goods have been stored by Angus Council's joint equipment loan service, which provides community living and nursing equipment to support people at home with physical disability and illness.
The service, which is based at Little Cairnie Hospital in Arbroath, also donates equipment which is no longer considered suitable for service users in Angus to charity.
The equipment was handed over by social work and health convener Councillor Glennis Middleton to Sheila Dunphy of the St Andrews Church Malawi Project.
Glennis said: "The items, which include some specialised paediatric equipment, have been stored away for about five years, so we were very pleased when the opportunity arose to donate them to a deserving cause.
"I am sure they will be of enormous benefit to the staff and children at the centres they are bound for."
The St Andrews Church Malawi Project works with AquAid Lifeline, which supports more than 3,000 orphans in Malawi.
The Arbroath church helped to finance the building and running of two orphan residences in the past few years.
Both centres provide two meals a day to around 300 children, as well as education, clothing and medical care. Around 30 children live at the residences, which run alongside day care centres.
Sheila said: "Last year we were grateful to receive a large amount of educational supplies from Timmergreens Primary before the school was knocked down.
"This was of tremendous help to our centres and also the two primary schools that AquAid Lifeline run.
"This equipment will be of great use at our almost completed clinic at Kambilonjo, Queens Hospital in Blantyre, Mlambe in Lunzu and Thyolo hospital in Thyolo, all of which we have strong connections with.
"The children's equipment will be of great use at the centre for disabled children at AquAid's centre at Namisu."