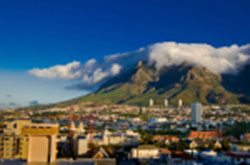 Varian Medical Systems is partnering with two universities in Africa to help cancer patients gain access to better, more modern, radiation treatments. The educational program, called "Access to Care", began this week in Cape Town, South Africa, and is training caregivers to deliver advanced conformal radiotherapy treatments.
Advanced techniques like 3-D conformal radiotherapy are not widely available in many parts of Africa, said Jose-Manuel Valentim, director of Varian's EMEIA (Europe, Middle East, India, Africa) and APAC (Asia-Pacific) divisions, to HCB News.

The course, not designed to build capacity, was catering to clinicians who have some level of skill and bring them to a higher level of proficiency.
The goal is to improve the quality of treatment among centers that are converting from much older cobalt radiotherapy treatment techniques to 3-D conformal. A lot of the focus is on safety and the quality of treatments – how to deliver treatment in a safe, efficient manner. The students were from centers that have made an investment in Varian technology or that plan to.
"A lack of trained personnel is one of the many bottlenecks that impair the ability to deploy advanced radiotherapy technology in a region," Valentim said.
By providing not just technology but also the right set of services and training, he and his colleagues hope the technology installations will be more successful.
"Many parts of the developing world are still significantly under-equipped, with too few machines to treat their rapidly growing cancer populations," says Michael Sandhu, who heads Varian Oncology Systems' new global market development team, in a statement.
"Developing regions are starting to invest in new equipment to address this capacity gap. But they are often hindered by a lack of qualified staff to plan treatments and run the equipment," he continued.
The World Health Organization (WHO) states that an ideal number of radiotherapy systems would be four to five machines per million population.
In Kenya, there are only nine machines for 40 million people. One public hospital there, with two machines, has a waiting list of 1,800 people.
In recent data collected by Varian's government affairs group, it was determined that 29 out of 52 African countries have no radiotherapy facilities whatsoever. Those countries represent 198 million people.
"At this point in time, in many parts of Africa, some 60/70 percent of patients are only seen when cancer has advanced to a later stage, and only palliative care is possible," Valentim explains. "So, first the problem of inadequate screening will have to be solved for radiotherapy to make an impact on survival. Once there is better screening, better treatments will help to bring about the same curative ratios as we see in places like Europe and the U.S."
Access to Care has several programs designed to meet specific needs of a particular country or region. For example in Vietnam, Varian held programs focused on very basic radiotherapy skills. That one was designed to be a capacity building program.
"In Algeria, we are planning capacity building programs. But this one in Cape Town is about skills and efficiency," Valentim says.
The Varian report states that "governments and international organizations have a key responsibility to enable access to quality care, but the role of the private sector cannot be underestimated. Companies like Varian Medical Systems can provide technologies and best practices to empower local populations and help revolutionize the global communities' response to non-communicable disease."
Source: http://www.dotmed.com/