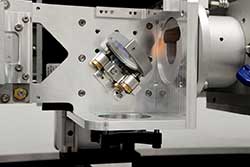 A Laser Medical Application Laboratory is to be set up in Ghana to serve as a centre for the training of medical professionals in West Africa.
The laboratory, which will be funded by development partners, will make use of laser technologies in the fields of urology, ophthalmology, dentistry and general surgery.

The Minister of Education, Prof. Naana Jane Opoku-Agyemang, made this known Monday at the opening of the Africa Regional Conference and Exhibition on light and light-based technologies in Accra.
Held on the theme: "Harnessing light and light-based technologies for Africa's development", the conference was to expose policy makers, politicians, social commentators and industrialists to the benefits of science and technology.
At the various exhibition stands, students of the departments of physics of the various public universities, as well as officials from some technology institutions, have showcased variety of technology for creating light.
Other alternatives
Prof. Opoku-Agyemang said the Laser and Fiber Optics Centre at the University of Cape Coast (UCC) would be upgraded into a full-fledged institute for capacity building in fibre optic technology.
She said a Solar Technology Research Centre would also be established at the Ghana Radio Astronomy Project at Kuntunse in Accra to enhance the study and promotion of solar science and the use of alternative energy.
The centre, to be funded by Germany, she added, would also facilitate the development of technologies to address present and emerging challenges in the solar energy sector.
The Minister of Education charged the participants to demonstrate how Africa's curricula in physics and related projects could be reviewed to enable students to innovate in the areas of energy production.
"We look forward to ways of reducing our status as consumers of solar products to creators of same, since we have the natural resource in such great abundance," she said.
The Chairman of the Local Organising Committee of the International Year of Light and Light-Based Technologies, Prof. Francis Allotey, said Africa could benefit from the many development breakthroughs that the light and light-based technologies had promoted in education, science and technology.
In a speech read on his behalf, President John Dramani Mahama said it was sad that Africa wallowed in poverty because it did not position itself to reap the benefits of the industrial revolution and those of the electronic age.