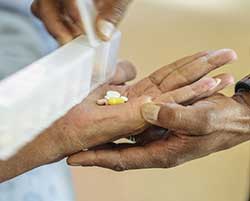 What do you do when over half of health sector spending is available to less than a fifth of the population? When only 16% have private health insurance and the 84% who do not are forced to turn to a public sector overstretched and understaffed?
The problems are manifold, the solutions never easy, but South Africa is on the brink of overhauling its health care system — and it's a plan 70 years in the making.

Universal health coverage in on the horizon, and would bring free at the point of delivery health care to a country blighted by the unequal provision of services.
Dismissed by certain parties as a pipe dream and looked upon with suspicion by others, the plan has been fraught with difficulties.
But with the imminent release of a government white paper outlining a new National Health Insurance (NHI) scheme, there is new hope for millions that they will now be able to access far greater primary health care.
Learning from Obamacare
Health care is a $29 billion dollar industry in South Africa, accounting for 8.5% of the country's GDP — a figure expected to rise. But for many medical professionals and politicians within the country, the disparity between the services available is problematic.
"The distribution of money between the private and public sectors is very similar to the U.S.," says Professor Diane McIntyre, founding director of the Health Economics Unit at the University of Cape Town. "Utterly unaffordable" is the way she describes the private sectors of both countries.
In South Africa, private medical schemes offer first class facilities and quality of care, whilst public hospitals, though offering free child and antenatal care, are understaffed and underfunded. More than half of general practitioners engage in private work, says McIntyre. For specialists, the figure is closer to 70%.
Like the U.S., "it's very much two systems running in parallel," says Daygan Eagar, program manager at the Rural Health Advocacy Project. He warns that "we don't want to go where the U.S. is going."
Policies such as President Obama's Affordable Care Act "don't undo the 'for profit' elements that make health care so expensive and access so difficult for people."
Instead, South Africa is going down a different route — one entirely of its own making.
False starts and missed opportunities
Universal health coverage has long been an aspiration for South Africa.
Dreamt up by politicians in the 1940s, scuppered by apartheid and failing to fly in the Mandela years, it has a long narrative of false starts and squandered chances.
In 1945 the Gluckman Report proposed a version of a nationalized health service, one that Eagar argues "informed" the creation of Britain's NHS in 1948.
However the rise of the National Party — and with it apartheid — precluded its full implementation, and progressive initiatives were almost immediately rolled back, with health care services segregated along racial lines.
When Nelson Mandela became president in 1994 "we missed an opportunity," says Eagar. Health was at the forefront of ANC policies in the lead up to the election, but despite strong social cohesion and the desire for progressive policies, universal health care failed to materialize.
Then in 2011 the emergence of a government green paper sparked the debate back in to life.
The green paper, a preliminary government report intended to provoke discussion, outlined a National Health Insurance Fund ("a misnomer" according to McIntyre — "it's more like a tax"), opened up the possibility of financing a complete overhaul of the health system.
More radical that Obama's Affordable Care Act — which has "done amazing things in that context," McIntyre notes — the paper proposed a means of providing universal health care, drastically improving the primary care available at public health facilities.
It's transition to a white paper — a more formal, government written report and the next step towards becoming legislation — seemed inevitable, the demand immediate, but instead it remains in a long and painful gestation period of over four years.
Now, it could finally be about to emerge.
A health service for everyone
McIntyre, despite her role as part of the Ministerial Advisory Committee, is unsure as to the exact publication date of the document, but speculates it could be "within the next couple of months."
The release has been imminent for some time according to the Department of Health, but recent reports from a briefing of parliament's Committee on Health suggest it has been finalized and the cabinet process underway.
At the same briefing, held August 21, Minister of Health Aaron Motsoaledi outlined plans to extend 10 NHI pilot districts in the 2015/16 financial year, using grants "to encourage doctors from the private sector to work in public clinics."
According to most parties, the proposal has fought against a particularly strong current, mainly created by the global economic downturn.
Despite strong political support, financing the project remains an ongoing concern in the roll out of the NHI scheme. This manifests itself in cautiously optimistic statements from government bodies.
According to the Western Cape Department of Health, "any proposals that are affordable and make for more efficient and effective use of resources must be welcomed, but have to be contextualized within its broader implications for the health system."
The underlying message is clear: with an estimated cost of $18.3 billion to implement, the public health care system cannot afford the NHI scheme to fail.
Moreover, there's a sense of frustration from provincial departments, kept in the dark regarding decision making within the national Department of Health.
In a statement to CNN, Western Cape authorities "look forward to" clarification of "the role of provinces and districts within the NHI to enable the Department to better respond to this policy position."
Conflict of ideology
Confusion and hearsay aside, there are factors the white paper is powerless to combat.
"There's a perception that the NHI would be giving people a free ride," says Eagar, compounding the view held by a portion of the affluent community that "a small percentage of the population working and paying tax is supporting the rest of the population."
There needs to be an ideological shift, he argues. "People aren't willing to jump in and accept that universal health care is an important basic right that must be realized… it's absolutely vital if this country is to move forward."
McIntyre believes certain elements of the preliminary proposal will be watered down before they make it into policy, and thinks private sector lobbying may be involved.
Not that private medical bodies should be entirely opposed to the move. There are substantial contracts to be won, she argues, and businesses can "absolutely" profit from the NHI fund.
Despite all sides registering caveats to their arguments, there is genuine belief that once the document is released, universal health coverage could soon take flight.
"If there's political will," McIntyre says, "it can be done."